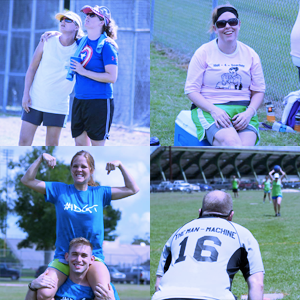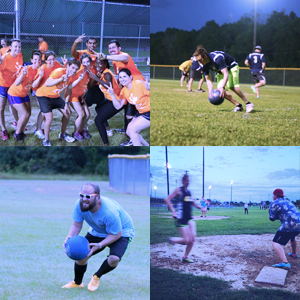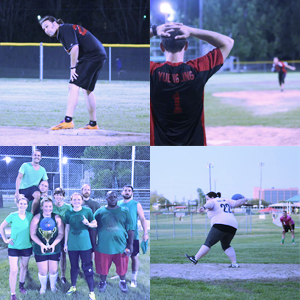 Want to play? Get in touch!
If you would like to join our league next season, sign up or contact us to find out more information.
Email
Our Players Enjoy:
Regular Season games and Playoffs
3 Leagues on 3 Nights
3 seasons a year
Social Events throughout the year
Connect with us:
The Premier Adult Kickball League in Baton Rouge
Red Stick Area Kickball (RSAK) was founded by Scott Murry in 2005. We offer the best experience around in both recreational and competitive Coed Kickball. We offer 4 leagues at various levels throughout the 3 seasons we play each year. We also offer our players many social events throughout the season. If you're interested in making friends, having fun and playing kickball, Come play with RSAK!

Wednesday playoffs are scheduled for November 9th. The schedule will be:
6:20 Dope Rodeo (4) VS. Puma Pants (5)
7:10 Valley Bulldogs (1) VS. Winner of 4 vs. 5
7:10 A+Merica (2) VS. Sonic Sloths (3)
8:00 Winner of 1 vs. 4/5 VS. Winner of 2 vs. 3
Commissioners will be utilized to officiate these games. 
Fall 2016 Kickball Season in in full swing! 
Weekly officiating assignments can be found on the REF SCHEDULE. Please check this schedule every week BEFORE your games. All teams are responsible for officiating assignments. 
Below are the links to schedules and standings for all leagues:

Monday - Lite League SCHEDULE and STANDINGS
Monday - Classic 2 SCHEDULE and STANDINGS
Tuesday - Classic 1 SCHEDULE and STANDINGS
Tuesday -Classic 2 SCHEDULE and STANDINGS
Wednesday - Classic 1 SCHEDULE and STANDINGS
Playoffs are on game nights the weeks of 11/28 & 12/5
Register HERE! or at the LEAGUES link above.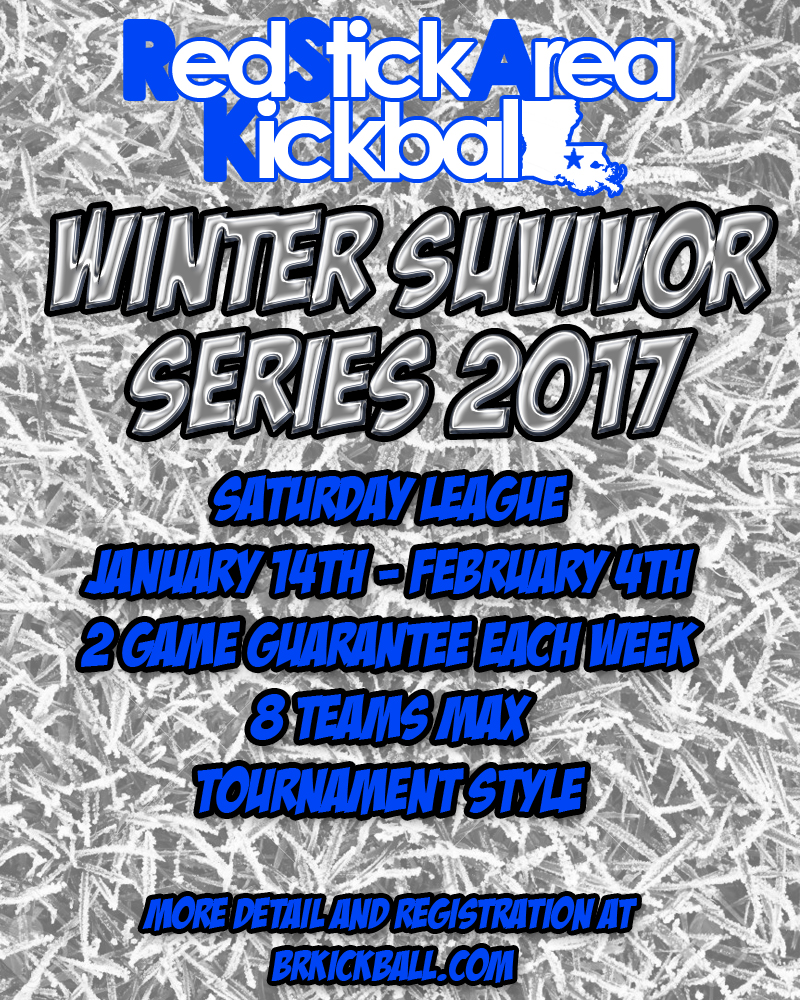 Friends & Sponsors of Red Stick Area Kickball
Louisiana's Premier Kickball League Since 2005
Games are played at:
Perkins Road Park
7122 Perkins Road
Baton Rouge, Louisiana 70808
Red Stick Area Kickball
1952 Kenilworth Parkway
Baton Rouge, LA 70808
High Quality Adult Recreation in Baton Rouge, Louisiana.